NORTH ADAMS – When Geeg Wiles arrived to trek Mount Kilimanjaro in Tanzania earlier this year, he brought along some unconventional gear: a roughly 40-pound wooden statue of a fisherman named Captain Achab.
His guide told him that porters, people who carry items like tents and food for hikers, couldn't get him up the mountain.
"No, I plan on wearing it," Wiles told them. And the group of guides and porters started laughing, Wiles said, "laughing at the task I set myself." At 19,431 feet, Kilimanjaro, a dormant volcano, is Africa's tallest mountain.
But he did, and along the way Ahab got people's attention. "Four days later it spread all over the mountain and it became the grandfather of Mount Kilimanjaro," Wiles said.
Wiles, who grew up and still lives in North Adams, has taken Ahab on many adventures – rafting, skydiving, kissing the Blarney Stone in Ireland, the Iowa State Fair, New York Comic Con and to various national parks. He puts photos of "Ahab's Adventures" on Instagram and on his website, ahabsadventures.com. Wiles also speaks to groups of Ahab.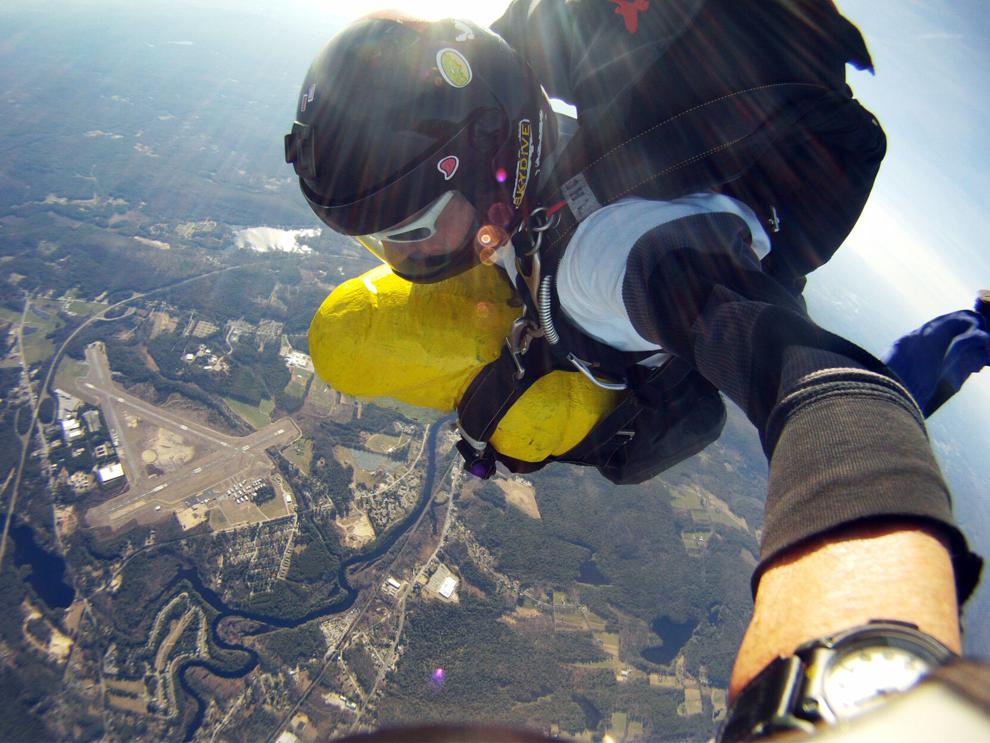 He has a message he's trying to get across: "The point is just to ask you how heavy your excuses are. And instead of letting them weigh you down, find ways to lighten that burden. Whether it's taking five minutes out of your evenings each day to learn about a skill you need to solve this problem, or asking your friends for help because you don't have those answers.
Although Ahab travels the country and the world with Wiles, you can also see him driving through North Adams in the back of Wiles' van, with the license plate "AHAB". Ahab could ride in the front passenger seat, but he's less visible there, Wiles said.
"Sometimes when I pass people they point and laugh or smile or something. And someone around them can tell them their version of our story or complete them. And it's an icebreaker in that sense, it sparks conversations between people that wouldn't normally happen… It makes people curious. And they let their guard down, and I constantly have real conversations with strangers.
THE ORIGINS OF ACAB
Ahab – named after Captain Ahab in Herman Melville's "Moby-Dick" – and his mission dates back some 80 years to Wiles' grandfather, Frank Schmidt.
When Schmidt was about to enter World War II with the U.S. Navy, he and his friends set out to pull a harmless prank to boost morale, Wiles said. They recruited or stole a lawn ornament they named Ahab.
After the war, Schmidt and his friends would meet at a house in upstate New York in July where they would play a game of cards, Wiles said.
"Whoever won the game did not win the pot [of money] in the end, but they won [the right] to choose Ahab's destination. And they would take a week and bring it somewhere else every year," Wiles said. "Ahab's goal was to always get them back together, to always find an excuse to get back together.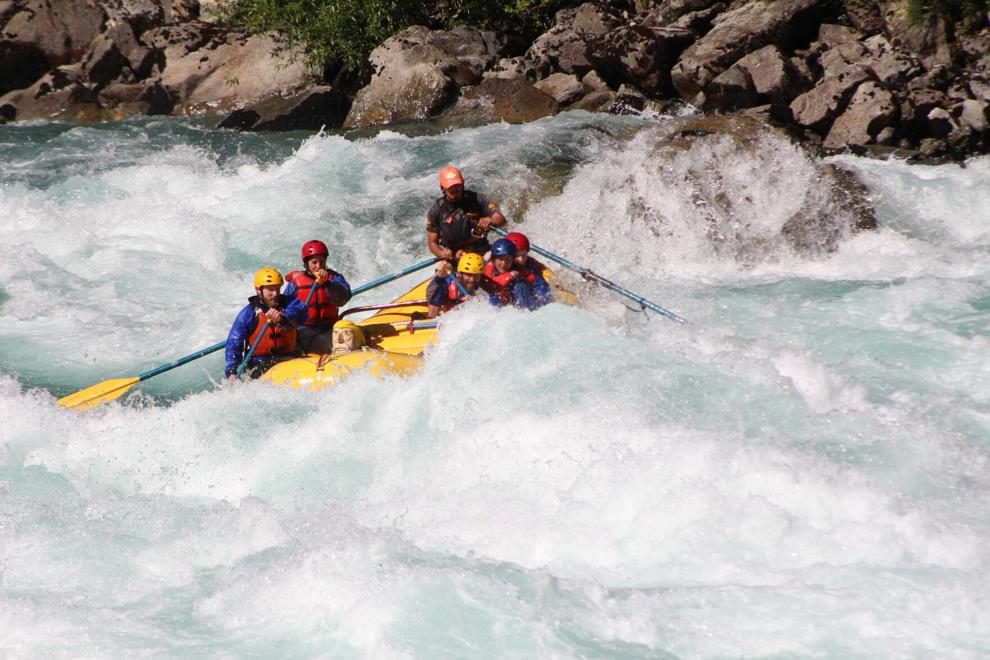 "They were saying, 'We have to take Ahab somewhere,' and it became a high priority thing. And even if it was a silly excuse, it's the silliest excuses that always make for the best stories and the best adventures.
When Wiles was 19, he had Ahab.
"It was passed on to me for the sole purpose of keeping him off the pitch as much as possible…to get him out of his comfort zone at all times."
Hiking Kilimanjaro was one way to do this. He and Chuck Soha, whom Wiles met growing up in North Adams, regularly climbed Mount Greylock to train for their journey.
The company guiding the journey carried shelter and food for the group, but figuring out how to transport Ahab was a challenge. "Normally I shoulder it, I just carry it like an 80s boombox on my shoulder," Wiles said. For hiking in the mountains, he modified a big game hunting backpack.
Although Soha walked with him, it was Wiles alone who carried Ahab.
"It was a very specific rule that I established," Wiles said. "I would rather turn around than let other people finish this for me if I couldn't."
They've made it to the top of the mountain, but traveling with a 40-pound, 3-foot-tall statue has its challenges, like airport security. Controlled like a bag, Ahab ends up rolling on the treadmill, Wiles said, so he takes her on the plane.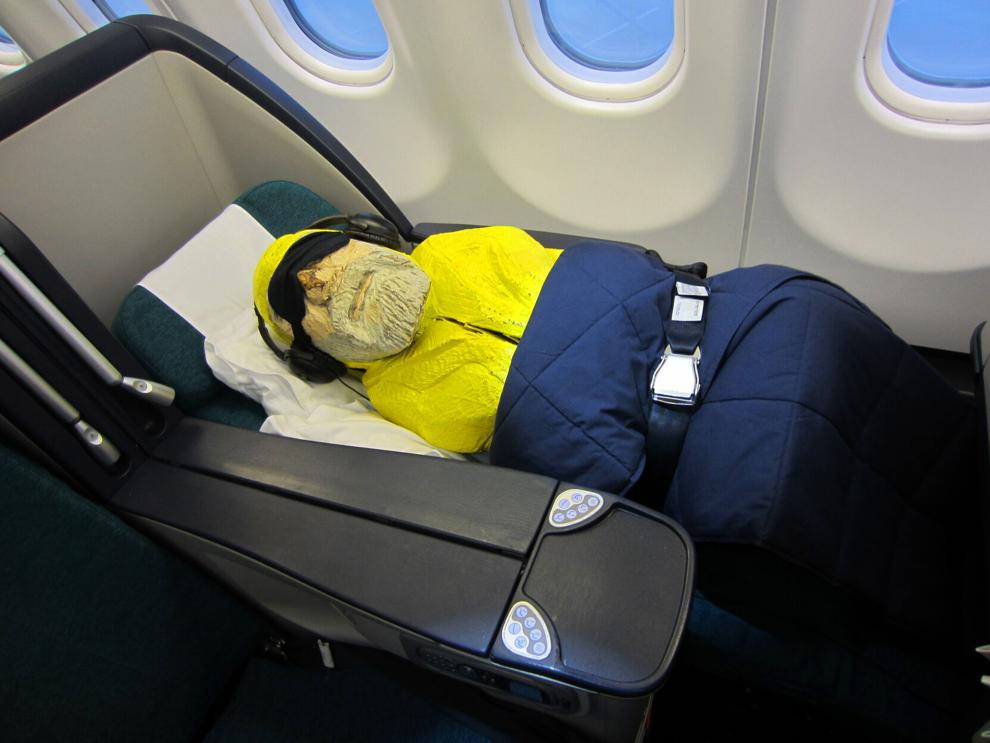 "People looked at him like he had three heads when he said he wanted to take her on the plane," Soha said of their trip to Tanzania. Ahab ended up flying into the flight attendant's baggage hold, Wiles said.
"All the people who run the plane every day usually find it fun enough to put it somewhere funny on the plane or in that extra seat… It even flew first class because people liked it. so much appreciated."
Wiles often meets new people through Ahab and helps process items on their bucket lists. After Justin Jesser met Wiles as part of the Red Bull Flugtag Philadelphia Challenge — a competition in which people launch homemade flying machines — they took a road trip through Kentucky and Tennessee. They went to Mammoth Cave National Park with Ahab.
"I have to say the experience was absolutely amazing. Not because it's breathtaking — it's absolutely beautiful," Jesser said, "but the reaction from people has been curiosity. curiosity is wide open when you see something strange and different.
As they travel, people will see Ahab and ask Wiles about it, sparking a conversation, Jesser said.
"He tends to draw a crowd," Soha said, recalling a time together at the National Mall in Washington, D.C. "When he's walking with that thing, people just gravitate toward him."
"It's just about showing up at a place and seeing and interacting with people, seeing how we can interrupt their normal daily cycle or get people to look up from their phones or whatever's on their minds. distracted, and make a new friend or motivate yourself to dust off that to-do list, whether it's written down or just mentally, you know, set up in your head. It's just to remind you that time goes by way too fast and you should pursue these things, even if it's at capacity for five minutes each day.
He took this message to students, speaking at various educational institutions, including Western Colorado State University. "It was then that Ahab began to fund his own travels. And it wasn't just me doing odd jobs anymore to do those extra little things," Wiles said.
Wiles also spoke more locally. For the past few years he has given presentations to students at Smith Vocational and Agricultural High School in Northampton. Principal Joe Bianca said he heard about Wiles and Ahab through a friend.
"We use this as a setup to build your to-do list and what your goals are for the next five years and beyond," Bianca said. Discussions also focus on "being able to define your goals and achieve them. And be your authentic self. Wiles is expected to speak to students again in the fall.
THE BUCKET LIST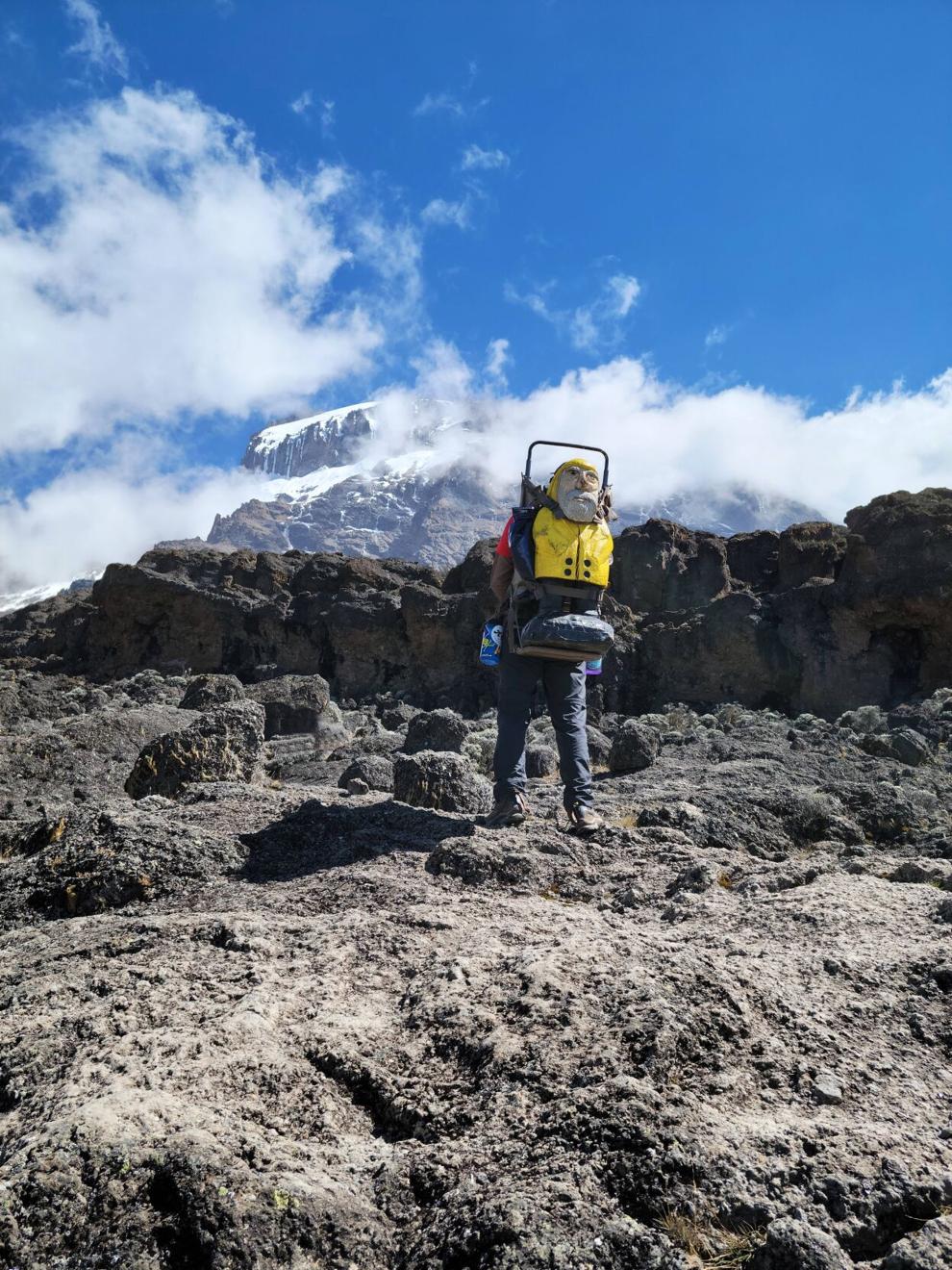 So what's on Wiles and Ahab's to-do list?
This summer, Wiles plans to head to Acadia National Park with Ahab, and a new beer might be on the horizon.
"I won't say which companies, but we're working with a few breweries… He's going to have his own grog soon which will be canned," Wiles said.
Longer term, Wiles dreams of having an exhibit featuring thousands of photos of Ahab at the Massachusetts Museum of Contemporary Art. "We already have over 10,000 photos of him all over the world," he said.
In the meantime, each year, Wiles plans to add another dash to a 19-dash long line tracing his arm from a skull and crossbones tattoo.
"Every year I get a dash," he said. "We planned this to last another 40 years, hopefully."